Best Free Music Downloader Apps for Android | Download MP3 Music Free
Are you searching for best mp3 downloader app for your Android smartphone to download free music? There are tons of music downloader apps available on Google play from which you can download mp3 music absolutely free. There are some 3rd party apps available as well which are great for downloading any genre of music that you love.
Earlier we used to have music players and portable music devices from companies like Sony, Philips. Do you remember Walkman from Sony for listening music? People from 90's will still remember it. It was so popular in those days. People were crazy for it. Even I used to have one along with a music cassette to listen my favorite songs. Smartphones like Blackberry, Android and iPhone became popular later on and totally changed the way we listen or watch any song, movies or other data.
Earlier we used to have slow internet connection speed but now a days it's quite fast because of 3G/4G and Wi-fi services by many internet service providers. People can easily download mp3 songs on their Android phone within seconds. You simply need to search the songs of your choice on the internet. Click on download button. Wait a few seconds and you can start listening the song right away. This whole process can be made much faster with free music downloader Android apps. You can search and download free mp3 music within seconds. Secondly music downloader apps provide all songs of different languages.
Check out below given Free Music Downloader Apps for Android to download free MP3 songs and other free music from internet:
Free MP3 Downloads is considered as one of the best free music downloader app for Android. It offers range of free MP3 music which are licensed to use. You can easily search your favorite songs to download. Interface of the app is very clean, simple and easy to understand. You will totally love it for downloading free MP3 music.
Start searching your favorite song in the app. Number of songs will appear in the search result. Choose the appropriate one and click on it to download. The song will be downloaded in the Music-FreeMP3Downloads folder of your SD card. Click on Listen tab in the app to listen all your downloaded songs.
With average user rating of 4.3, this app is one of the most popular apps for downloading free music on Android smartphones. It's a both free music download and music streaming app. You can start searching for your favorite music using Genre or simply search it on the app. You can easily find any MP3 music to download as their database is very big and contains millions of songs.
iTube MP3 music downloader app is totally FREE on Google Play. There are no in-app purchases as well. It's a must try app and I'm sure that you will like it a lot for downloading your favorite music.
4Shares is one of the most popular music app across the world. 4Shared is already a big name and needs no introduction for its top class services. It's considered as best free music downloader app. 4Shared app offers number of other things as well. To download free music, move to the Music category. Search for your favorite song or artist to download the MP3.
4Shared music app also offers free online music streaming. One of the best feature of this app is that it has inbuilt music player app. You don't need a separate music player to play free downloaded mp3 music. You can play right away in the app itself.
MP3 Music Downloader is one of the top rated mp3 downloader app fro Android. It offers millions of songs. You can look for your favorite artist or songs on the app and download them for free right away. The app is very simple through which you can find your likeable songs and can freely download them.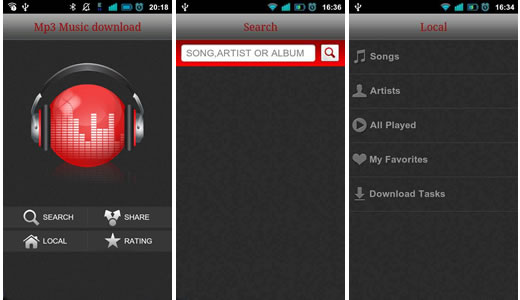 MP3 Music Downloader app offers exciting features such as multiple music file downloads at same time, background downloading of songs, ring maker etc... Many app mentioned here don't offer all these features. You simply need to search your song and then click on download button to start downloading that song. You can listen the song in the offline mode anytime you want.
Tunee music downloader is one of the best app to download any kind of MP3 music. You can download this music app for android from third party website. It was removed from Google Play store recently. It's one of the advanced music android app and offers high quality MP3 songs.
To download music from this app, you need to search for your favorite artist or song that you want to listen. It will display a list of related song. You can download the song that you want or browse through the songs of the artist before downloading any other song from the artist album.
Google Play Music is the default and most high rated music app on the play store. You can find it on your android device. You should keep it updated in order to get latest features that Google keeps inserting in the app. Google Play music has huge database of MP3 songs however not all of them are free. You need to purchase few songs if you want them badly.
Google play music offers many good features such as recommended songs. You will get recommendation for songs according to your listening and downloading habits on the app. You can also subscribe and download podcasts to listen in your free time. Google Play music is one of the most trusted app on the playstore because it's made by Google.
Skull MP3 Music Downloader pro is one of the good apps to download free music. You can download the song after searching in the app. Skull MP3 downloader provides inbuilt music player through which you can listen to songs without opening your default music player. It also has an amazing feature through which you can set the ringtone of any song right from inside the app. Many people like the ringtone feature.
One of the disadvantages of this app is that it's quite slow according to reviews. You need to be patient to download songs however it downloads the songs smoothly.
You must have already heard about the Sound Cloud app which is very popular in certain countries. It offers a range of features from downloading songs to streaming your own songs on the app. You can download thousands of free MP3 songs from this app. You can save music tracks using their save as offline feature. The app is available in both version i.e. Free and paid. Free version has some ads.
You can pay a small fee to remove those ads. It is one of the highest rated app with rating of 4.4 and millions of install on Google play store. You can search the songs using search bar provided inside the app. The interface is super beautiful and easy to navigate.
Gaana music app is one of the best apps that I use. It includes songs from many countries. You can download MP3 inside the app. It has its own music player through which you can listen to songs without opening your music player. It includes songs from movies and albums on day to day basis. You can find any new song on this app after 2-3 days only.
Songs downloaded are stored inside the Gaana app only. You can go to downloads category to listen any song that you want. Gaana app has one of the most beautiful look that you can get.
Copyleft MP3 downloader is widely famous because it saves the file in your storage so that you can access it via your file manager. Most of the apps don't offer this feature. They save all the songs inside the app and you can't access them via file manager. You can find any song or artist using the search option in the app.
The app is not available in the Google Play store but you can download the copyleft mp3 music downloader app from the 3rd party website link that we have given.
Radio player by Audials isn't actually a music downloader app but you can still record songs, save it and listen it afterwards. Radio player has thousands of stations that you can play on it. It offers the facility of recording the songs. You can record your favorite tracks to listen them any time you want.
This Android app is very popular and is recommended by many people. Sometimes you can find great songs while listening radio and you can save it. It's very helpful and a must try.
Wynk music app is one of the most downloaded mp3 downloader app on Google play with millions of downloads. The app has a very good rating of 4.1 You can find literally find millions of tracks. Inside the app you can search for the track. All the downloaded songs will get saved. It has an inbuilt music player which will play the music and you don't require any other android music player.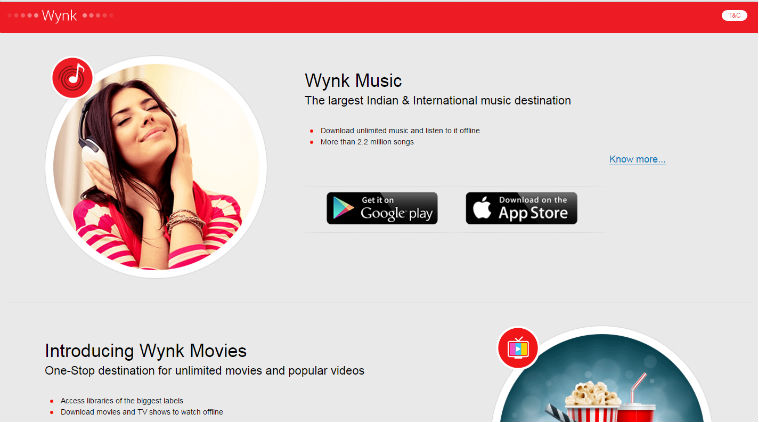 Wynk music app is available in multiple languages. It provides curated playlist across genres and moods. It also give you recommended songs according to your listening habit. It's a must try app.
Advanced download manager is very simple to operate. It's a download manager which allows you to download and organize files downloaded from the internet. However it's internal search facility allows you to search for your favorite songs from internet and download them right away. You can search for MP3 or MP4 files.
Search the song. Once you find it then simply download it. You can play the song using your default android music player. Anyone can easily operate this app without any difficulty.
There are many other android music downloader apps available on Google play but they don't offer such services like above apps. We will keep updating the list. You can bookmark it to get the latest best android music mp3 downloader app for your smartphone.
Best Free Music Downloader Apps for Android | Download MP3 Music Free
Reviewed by
Satyendra Pandey
on
12:56:00 pm
Rating: